Enrique is Performing in Dubai this Weekend… on a Floating Stage!
Ready for some Latin heat?! Enrique Iglesias is coming to Dubai this weekend… and his concert might be unlike anything we've ever seen! The superstar will perform on an over-water stage at The Pointe on Palm Jumeirah — alongside epic fireworks and an amazing ticket deal on offer. Here are the must-know details…
Enrique Iglesias is taking over the Palm on Friday
Enrique's concert is taking place on Friday, 14 December at The Pointe — that's the new waterfront destination on Palm Jumeirah overlooking Atlantis. He's going to perform live on a purpose-built stage over the water… so fans can expect some incredible views!
There's a full day of pre-concert events planned from 4pm onwards including a line-up of DJs and entertainment, followed by a live opening act before Enrique takes the stage for a 90-minute performance. The concert will be topped off with a special fireworks show and awesome after-party. Check out this incredible ticket offer:
Tickets: Priced at AED 150 per person, and you'll get back AED 115 in vouchers that are redeemable on food in selected restaurants or dining outlets at The Pointe. That's just AED 35 to watch Enrique… and the rest for food! (Vouchers are valid from 14 December–22 December.)
After-party vibes: Ticket holders can also access the show's after-party at The Pointe, with special dining and entertainment offers up for grabs until 3am. Friday plans sorted!
There will also be shuttle buses to transport you The Pointe:
Complimentary shuttle buses… will be provided from Palm Jumeirah Monorail Station and from Al Ittihad Park to The Pointe between 3pm–2:30am. (You can reach Al Ittihad Park on Palm Jumeirah by Uber/Careem/taxi. IMPORTANT: parking will be limited at Palm Jumeirah Monorail Station so drivers should plan accordingly.)
Now let's get to The Pointe…
If you've yet to visit The Pointe at Palm Jumeirah, this is an awesome chance to explore Dubai's newest scenic hotspot. Located at the tip of the Palm – across the bay from Atlantis – they're pulling out all the stops to make Enrique's concert something to remember. Here's what to expect at The Pointe…
It features a 1.5 km promenade with restaurants, shops and attractions — including a dine-in cinema and children's entertainment area.
The seafront district sits directly across from Atlantis The Palm… it's an amazing spot to snap photos with the iconic hotel as a backdrop (especially at night!)
Ready for an epic night on the Palm with Enrique?!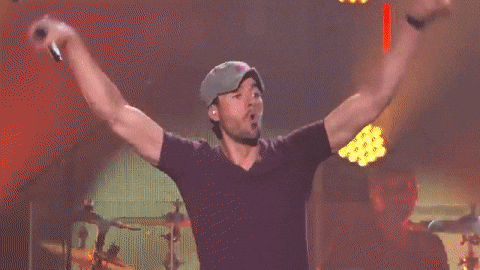 Must-know details:
What: Enrique Iglesias in concert
When: 9pm on Friday, 14 December (festivities kick off from 4pm onwards)
Where: The Pointe at Palm Jumeirah (located at the tip of the Palm, across the bay from Atlantis. Find the location on Google Maps.)
Tickets: AED 150 (with AED 115 in vouchers redeemable in selected dining outlets at The Pointe) — available at www.ticketmaster.ae
---
Sponsored content